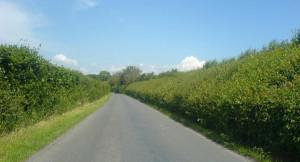 Native Hedges helping to join habitats.
Top tip * – Native hedges should use a mix of trees and shrubs, the best plants for wildlife in the UK, are those native to the UK . These include Hawthorn, Blackthorn, Wild Privet and Dogwood.
Using native trees and shrub varieties will provide the highest wildlife value; providing flowers and later berries for food for insects, birds and small mammals.
Consider these points when planning your wildlife hedge;
The greater the number of hedge species, the greater the variety of wildlife.
Plants should be suited to local soils.
Plant hedges in a suitable location.
Sunny sheltered spots are the best for wildlife.
Choose locations with space for the hedge to grow several metres wide and several metres in maturity.
You can grow hedging plants from locally collected tree and shrub seed.
Plant the hedging plants as a random mixture; this will be best for wildlife.
Also;
Trees at suitable intervals, allowed to grow into standards, will enhance the wildlife value.
At the hedge corner, add a small group of standard native trees, corner plantings will greatly enhance the wildlife value of the hedge.
Plan for a diverse hedge with a long period of flowering and berry bearing- to maximise wildlife value.
Management of your wildlife hedge;
Do not over trim the hedge – allow it to flower and bear berries for birds and other wildlife.
Trim every 3rd year, as late as possible, mid to late January, but before birds start to nest so, before mid February onwards. The exception is, if the hedge is on a roadside, then an annual light trim may be required.
For information on legal aspects of hedges have a look

here

.
Trimming less frequently will save money as well as help boost wildlife food sources, encouraging flowers and berries to form, of species such as Hawthorn.
The main aim is to allow a dense, broad base to develop, ideally with an A shape for wildlife. This increases the volume of the hedge and the overall value of the hedge for nesting birds, small mammals and other wildlife.
Let native wild flowers grow along the hedge base. These provide food and cover for wildlife. Flowers such as Cuckoo Flower, Garlic mustard, Primrose, Common Dog Violet and grasses such as Cocksfoot and Couch are used as food plants by butterflies such as Orange Tip and Speckled Wood, which lay their eggs on these wild flowers .
For answers to your queries on how to create a wildlife hedgeor native hedge , go to our Contact us with these. Or phone us on 01892 782200