Landscape Architect as advisor for new landscapes; LVIAs, and EVIAs.
Landscape architects specialise in the design and management of landscapes. Landscape architects produce Landscape Visual Impact Assessments or LVIAs. They also produce EVIAs and landscape designs for existing and new landscapes. If you need to have advice on a new development in a protected landscape area, or on the design of a scheme which requires specialist landscape input, a landscape architect can advise you on mitigation and planting methods.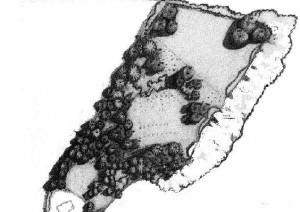 Landscape Architects; Creating a sense of Place.
Landscape architects are instrumental in the design of new places, creating a sense of place and rejuvenating Brownfield sites. Frequently working on new housing schemes, to create a enhanced sense of community and bring back the old character and life into neglected places. The role of landscape architect is rather like that of a "landscape magician"; bringing beauty and magic into landscapes that may have been neglected and which need landscape design input to make them look stunning.
Building Exciting New Places to live and work; the role of landscape architect.
A landscape architect can bring landscapes back to life and rejuvenate landscapes. Landvision's landscape architects work on new housing projects, new and existing schools and colleges, large private estates, private gardens both rural and urban, care homes and hospital grounds. The after photos of projects demonstrate why using a landscape architect is a good idea. The input of a landscape architect will save clients time and money. Using a landscape architect will help you to obtain planning permission more swiftly, whilst safeguarded landscapes are still protected for future generations to enjoy.
Problem Solving Hot shots – landscape architects' input in combating climate change.
For protected landscapes, no one else is best placed to advise a client on how to protect a view and the landscape better than the landscape architect. This matters because the landscape design input and advice form a landscape architect will help to create an improved quality of life for communities, in the long term bringing savings in the health and welfare budgets. Reducing stress, reducing pollution, increasing green infrastructure, managing water run off, reducing flooding and improving micro climates, offsetting carbon; the landscape architect is vital in combating climate change. The role of the landscape architect is broad and requires an in depth knowledge of landscape.
Improving Visual Amenity- the landscape architect as a beautician of landscape.
To bring beauty into the lives of everyone who passes through the landscape. This is a main aim of the landscape architect. "A thing of beauty is a joy forever." The landscape architect knows how to achieve this within the constraints of the site, within a set time-scale and looking at the site itself.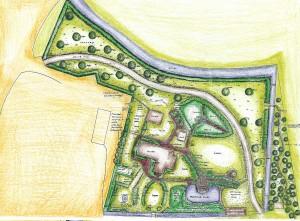 Agent between client and contractor- landscape architect as go between.
The role of landscape architect is to act as an agent between the client and contractor; facilitating the completion of a landscape scheme on time, to budget and as designed. The landscape architect is the client's advisor, but must act fairly towards the contractor or developer, to bring out the best in both the landscape and in each project. Planning law must be abided by. The landscape architect has an in depth knowledge of landscape and countryside law and will be able to liaise with the planning authority on behalf of the client. Also, landscape architects liaise with other professionals such as architects and engineers, advising on schemes, providing specialist landscape input on both large and small scale schemes.
Landscape Architect inspiring and imagining new lives, new landscapes.
Landscape architects offer inspiration and imagination to produce resilient landscapes with solutions to landscape issues, such as designing to combat the challenges of global climate change, such as the effects of flooding and droughts, whilst devising solutions to deal with new developments. To discuss your schemes with our landscape architects, please go to Contact page; or ring us on 01892 782200